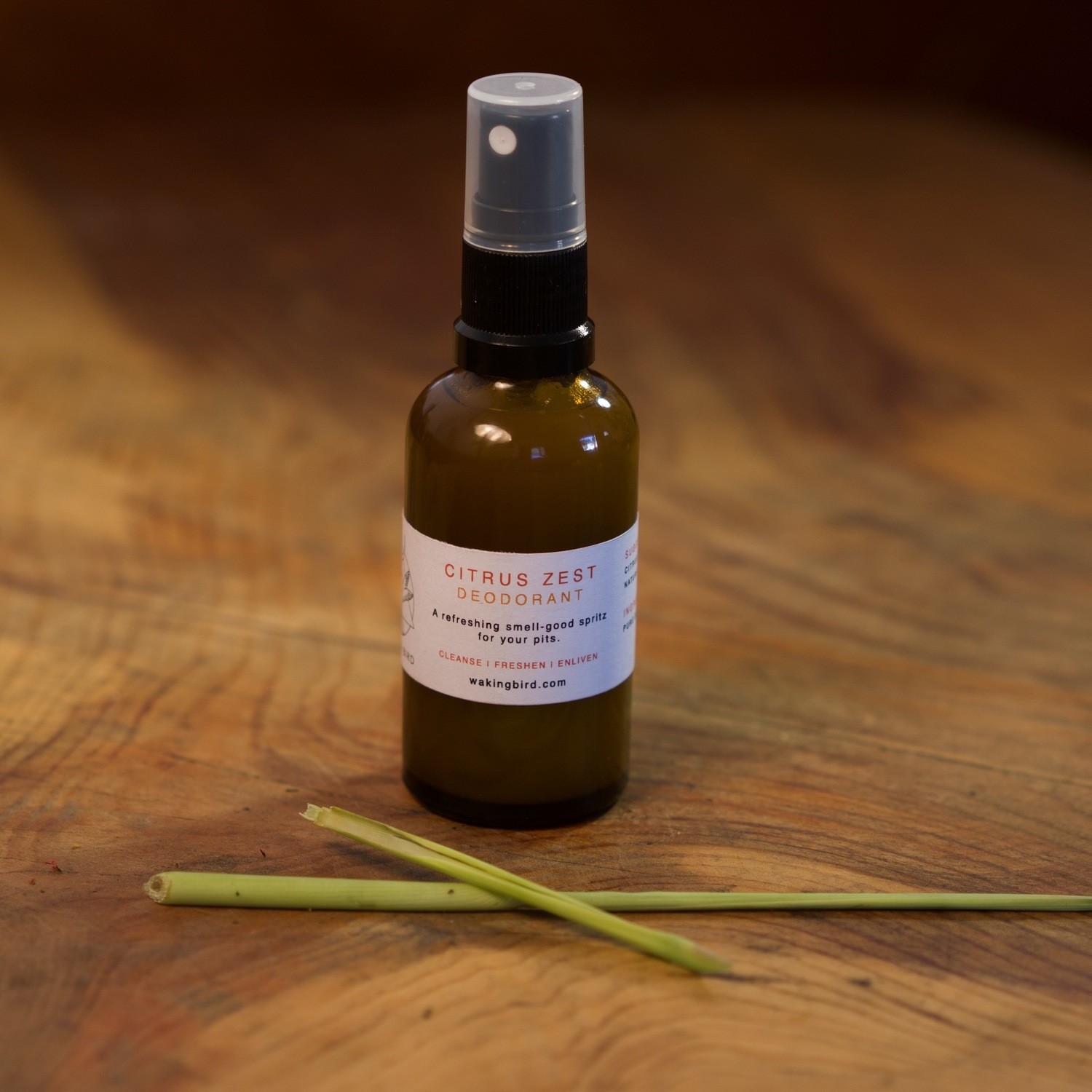 Citrus Zest Deodorant
SKU 10
Product Details
Citrus Zest Deodorant is made with a clean, soothing witch hazel base, real lime juice and pure steam-distilled essential oils specially blended to cleanse, refresh and uplift the body, mind and spirit. Works wonderfully on sensitive skin, is completely safe to use and keeps you smelling good all day long!
Note: Shake well before use, natural separation of organic ingredients does occur.
INGREDIENTS:
Witch Hazel (Hamamelis virginiana)
Also known as Magician's Rod, Woodbloom, Winterbloom, Snapping Hazel, Tobacco Wood, or Spotted Alder. Witch Hazel is a topical astringent derived from the bark and leaves of Hamamelis virginiana, a flowering shrub common in North America.
Native Americans have long recognized the medicinal properties of witch hazel and used a decoction of the boiled plant parts to treat skin irritations, eye inflammations, and tumors. The leaves, bark, and twigs are high in tannins, which makes for a great astringent.
Witch Hazel can be used to cleanse and heal wounds, relieve itchiness and inflammation, soothe bites, stings, burns and rashes, for post-hair removal, to help stop bleeding, heal bruising and as a general anti-inflammatory, topical astringent.
Fresh-squeezed Lime Juice
Lime is a lovely skin toner and one of nature's best natural deodorants. The citric acid in lime juice has antibacterial and antimicrobial properties, which helps eliminate the bacteria on your skin which cause the odor.
Lemongrass Essential Oil (Cymbopogon citratus)
The health benefits of lemongrass essential oil can be attributed to its beneficial properties as an analgesic, antidepressant, antimicrobial, antipyretic, antiseptic, astringent, bactericidal, carminative, deodorant, diuretic, febrifuge, fungicidal, galactagogue, insecticidal, nervine, sedative, and tonic.
Lemongrass has antimicrobial properties which make it an inhibitor of microbial and bacterial growth in the body, both internally and externally. This is why it works so nicely as a natural deodorant. Lemongrass is also a natural mood enhancer to help brighten your spirits.
Our 100% pure lemongrass oil is organic and steam-distilled.
Lime Essential Oil (Citrus aurantifolia)
Lime essential oil works as an antiseptic, antiviral, astringent, aperitif, bactericidal, disinfectant, febrifuge, hemostatic, restorative, and tonic. The essential oil of lime is extracted by cold compression of fresh lime peels or by steam distillation of its dried peels.
Lime essential oil is a great bactericide and disinfectant, which makes it another great skin soother and odor eater.
Our lime oil is 100% pure and steam-distilled.
Sweet Orange Essential Oil (Citrus sinensis)
Orange essential oil benefits as an anti-inflammatory, antidepressant, antispasmodic, antiseptic, aphrodisiac, carminative, diuretic, tonic, sedative, and a cholagogic substance.

Not only does orange essential oil cleanse and prevent infection, it's a natural aphrodisiac that can help alleviate anxiety, anger, and depression. Perfect way to add a little sunshine to your day.

Our sweet orange oil is 100% pure and steam-distilled.
Tangerine Essential Oil (Citrus reticulata)
Tangerine essential oil is used as an antiseptic, antispasmodic, cytophylactic, depurative, sedative, stomachic, and tonic; it is made by the extraction and cold compression of its peels.

Soothes inflammation, is a natural toner and helps to maintain oil and moisture balance in the skin. Certain components of this oil stimulate the generation of new cells or more precisely, cell division, and recycling of the cellular material in the body/skin.
Our tangerine oil is 100% pure and steam-distilled.
Size: 50 ml

Save this product for later