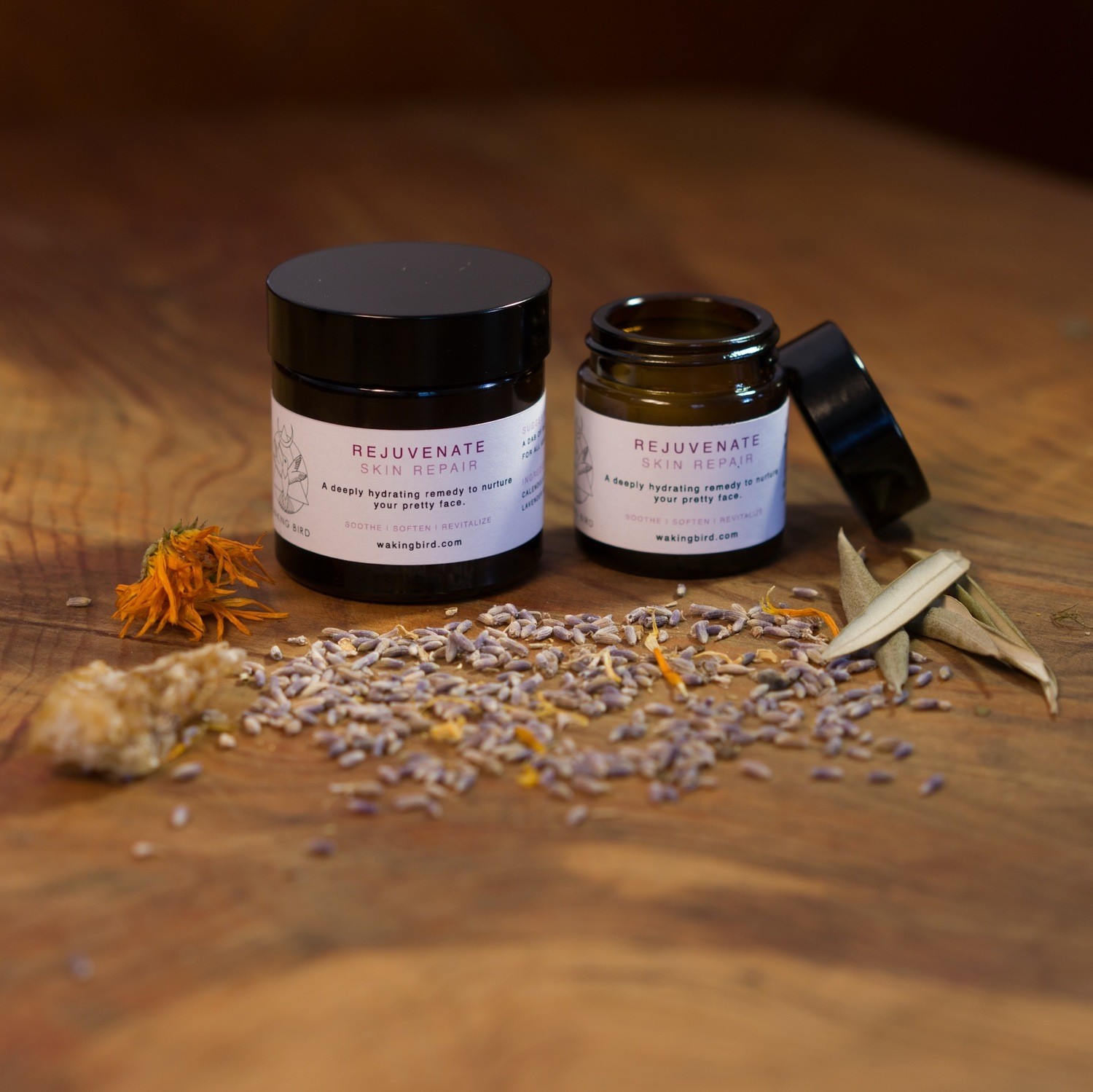 Rejuvenate Skin Repair
SKU 04
Product Details
Rejuvenate Skin Repair is crafted with a wild calendula flower infusion, local beeswax, and lavender Mont Blanc essential oil. This soothing blend helps protect and repair the skin from sun damage, acne, dermatitis, lines and scars as well as soothe redness and inflammation.
Rejuvenate Skin Repair can be used as a daily face moisturiser and works well on all skin types.
INGREDIENTS:
Extra Virgin Olive Oil

Extra virgin olive oil is made by crushing olives and extracting the juice. It is simply fresh, healthy olives and contains the beneficial nutrients that olive oil is famous for.
Extra virgin is the highest quality olive oil classification. It must be produced entirely by mechanical means without the use of any solvents, and under temperatures that will not degrade the oil.
Cold-pressed olive oil is packed with antioxidants which helps minimise environmental skin damage and works as an excellent skin firmer and moisturiser. It is an age old beauty secret due to it's ability to help replenish and restore the skin's balance, elasticity, and hydration, as well as prevent premature ageing.
Our olive oil is sourced from the Douro region of Portugal where some of the best olive oils in the world are made.
Wild Calendula Flowers (Calendula officinalis)
Calendula can significantly boost the appearance of your skin. It affects blood flow to the skin cells, providing antioxidant protection that reduces the appearance of wrinkles and age spots, and even the visibility of scars. Because of it's anti-inflammatory, antiviral and antibacterial properties, it is commonly used to help soothe dermatitis and heal wounds. If you want smooth, even-toned skin that glows with youthful vitality, consider the sweet magic of calendula.

Local Beeswax
When applied to the skin, beeswax forms a protective barrier that helps protect it from environmental damage, while also holding in moisture and reducing dryness. Unlike ingredients made from petroleum, however, beeswax doesn't "suffocate" the skin, and won't clog pores.

Beeswax is high in vitamin A, which encourages healthy skin cell production and works as a natural humectant, to help your skin stay hydrated over time.
Our beeswax is certified organic and locally sourced.
Lavender Mont Blanc Essential Oil (Lavendula angustifolia)
Lavender Mont Blanc is of the most potent lavender in the world; often called 'High Altitude', due to the intense sunlight and fresh air it receives on the slopes of Mont Blanc in France. Mont Blanc generally has a higher level of Linalyl Acetate (one of the key components of lavender), prized for it's anti-inflammatory, antibacterial and antiviral properties.

Lavender is commonly used to treat mental fatigue, depression, nervous tension, insomnia, bee stings, insect bites and various skin conditions from eczema to acne.
Rejuvenate Skin Repair is lovely to use both in the day, to help ease general stress and anxiety, and before bed, as it soothes the nervous system and works as a sleep aid.
Save this product for later