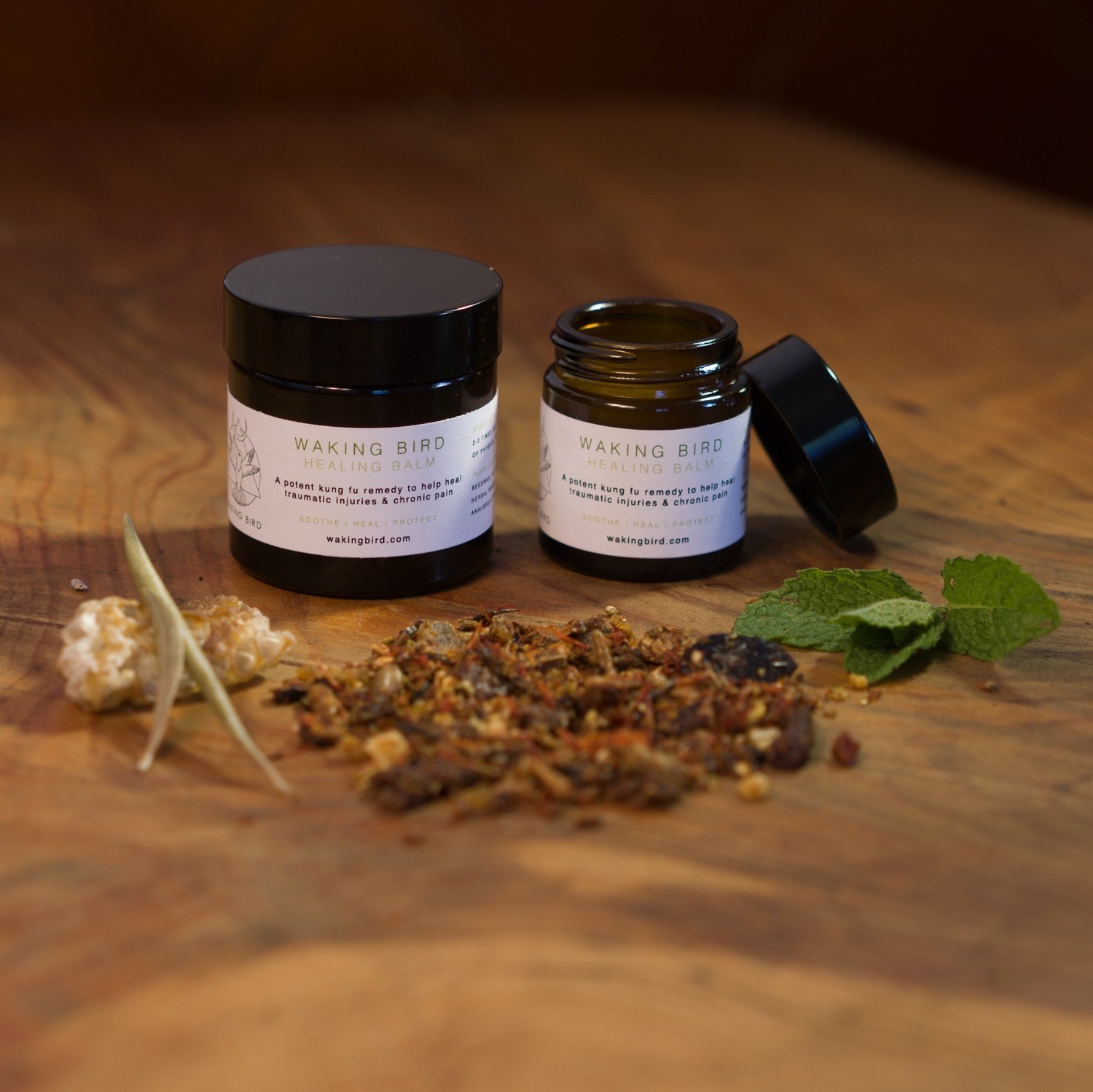 Waking Bird Healing Balm
SKU 01
Product Details
Waking Bird Healing Balm is crafted with a pure essential oils and a Chinese herbal formula (dit da jow) that dates back nearly 200 years. Dit da jow ("heal the injury liniment") has been used for centuries by shaolin martial artists to keep the joints, ligaments and tendons healthy under rigorous training conditions.
Waking Bird Healing Balm soothes pain, promotes circulation, stimulates nerve endings, and helps heal damaged tissue. Use for the relief of muscle aches and pains, joint stiffness, sprains, strains, congestion, bruising and swelling.
INGREDIENTS:
Ho Family Dit Da Jow
Chronic Injury and Pain Formula (Ho Family Dit Da Jow) is very strong in its action to manage pain and arthritic stiffness, tissue strains and soreness, and is quite effective for sinew injuries. This potent formula has nice balance of both healing and conditioning properties.
Ho Family is a very large formula, especially for an injury liniment. Its ingredients include an arsenal of herbs found commonly in both injury and conditioning formulas. It is fantastic for injuries of all kinds.
Therapeutic Actions:
- Disperses blood stasis
- Reduces swelling
- Relieves pain
- Connects bones
- Facilitates healing/strengthening of connective tissue and bone
- Safe and natural stimulant action
- Invigorates and improves circulation
- Improves hemorrheological changes
- All around tonic effect on the circulatory system
- Anticoagulant
- Desensitization of nerves that transmit pain signals to brain
- Promotes nourishment in the channels and tendons
- Expels pus
- Generates flesh

Common Uses:
- Bruises/Contusions
- Swelling, redness and pain, inflammation
- Tendon injuries
- Sprains
- Strains
- Varicose Veins
- Rheumatoid and osteoarthritis and joint/muscle pain
- Blood clots
- Numbness
- Fractured or broken bones and traumatic injuries
- Veterinary medicine on racing horses and dogs
- Massage therapy
Sourced indigenously, Ho Family Remedy uses geo-authentic herbs that are sulphur-free and lab-tested for potency.
Extra Virgin Olive Oil
Extra virgin olive oil is made by crushing olives and extracting the juice. It is simply fresh, healthy olives and contains the beneficial nutrients that olive oil is famous for.
Extra virgin is the highest quality olive oil classification. It must be produced entirely by mechanical means without the use of any solvents, and under temperatures that will not degrade the oil.
Cold-pressed olive oil is packed with antioxidants which helps minimise environmental skin damage and works as an excellent skin firmer and moisturiser. It is an age old beauty secret due to it's ability to help replenish and restore the skin's balance, elasticity, and hydration, as well as prevent premature ageing.
Our olive oil is sourced from the Douro region of Portugal where some of the best olive oils in the world are made.
Local Beeswax
When applied to the skin, beeswax forms a protective barrier that helps shield it from environmental damage, while also holding in moisture and reducing dryness. Unlike ingredients made from petroleum, however, beeswax doesn't "suffocate" the skin, and won't clog pores.
Beeswax is high in vitamin A, which encourages healthy skin cell production and works as a natural humectant, to help your skin stay hydrated over time.
Our beeswax is certified organic and locally sourced.
Eucalyptus Essential Oil (Eucalyptus globulus)
Eucalyptus essential oil is obtained from fresh leaves of the tall, evergreen eucalyptus tree. The powerful health benefits of eucalyptus essential oil include treating colds and flu, hair care, relieving muscle pain, and preventing cavities.
It also aids in boosting immunity and healing fungal infections as well as wounds. Eucalyptus essential oil has potent properties, which include being an anti-inflammatory, antispasmodic, decongestant, antiseptic, antibacterial, and stimulant.
The volatile eucalyptus oil is analgesic and anti-inflammatory in nature. The oil does so by influencing both the central and peripheral nervous system response to noxious stimuli.

Our 100% pure eucalyptus oil is organic and steam-distilled
Peppermint Essential Oil (Mentha × piperita)
Peppermint is a cross between watermint and spearmint and is native to Europe. This antimicrobial herb has been known for its medicinal uses, and its impressively long history often gives it the prestigious title as the world's oldest medicine.
The health benefits of peppermint oil include its ability to treat indigestion, respiratory problems, headache, nausea, fever, as well as pain. The analgesic properties of peppermint help make our Healing Balm an even more powerful pain reliever.
Our 100% pure peppermint oil is organic and steam-distilled.
Save this product for later